Beyonce's performance at the Grammys this year reminded us all of the beautiful impact of gold jewelry. While you may not covet a gold headpiece, who wouldn't want a stunning stack of gold bangles, an impact gold necklace or gold statement earrings? Wanting isn't the same as getting, however, especially given the price per ounce of solid gold. Lucky for ladies not named Beyonce', you can find lovely gold plated pieces that give you the look without the punch to your pocketbook.
Gold plate. Gold filled. Gold vermeil. There's lots of terminology, and it can be a bit confusing. The terms are not interchangeable, and each has industry-specific standards so you can know just what you are buying.
Solid Gold
Solid gold jewelry is actually only 100 percent gold when 24 karat. Other gold pieces are considered solid gold, but are alloyed with other metals, such as nickel, copper, zinc and others, to strengthen the gold and make it more durable. To learn more about solid gold, you may want to read our blog post The Color of Gold.
Gold Filled
Gold filled or gold overlay jewelry is composed of a solid layer of gold which is bonded with heat and pressure to a base metal. The gold typically must account for at least five percent of the piece's weight, though this varies with the fineness of the gold (10 karat gold must account for at least 1/10th of the total weight, while 12 karat or higher must account for at least 1/20th of the total weight).
Gold Vermeil
Gold vermeil is also known as silver gilt. Unlike other plated pieces, vermeil must have a sterling silver base and the gold coating must be at least 10 karat gold and at least 2.5 microns thick. While still plated jewelry, gold vermeil does have more intrinsic value, as sterling silver is a valuable metal in its own right.
Gold Plated
Gold plated jewelry is made by depositing a layer of gold onto a conductive surface. The base metal piece is immersed in an electrolyte solution with particles of gold; a current is used to deposit particles onto the piece. Different varieties of gold plating, then, are defined by the thickness of the gold applied.
Heavy gold plate must be 14 karat gold or higher and be at least 2.5 microns thick.
Gold plate must be 14 karat gold or higher and be at least .5 microns thick.
Gold electroplate must be 14 karat gold and be a least .175 microns thick.
Note: A micron is a millionth of a meter or about .0004 inches. To help you visualize this, a human red blood cell is about 5 microns across and a human hair averages about 75 microns.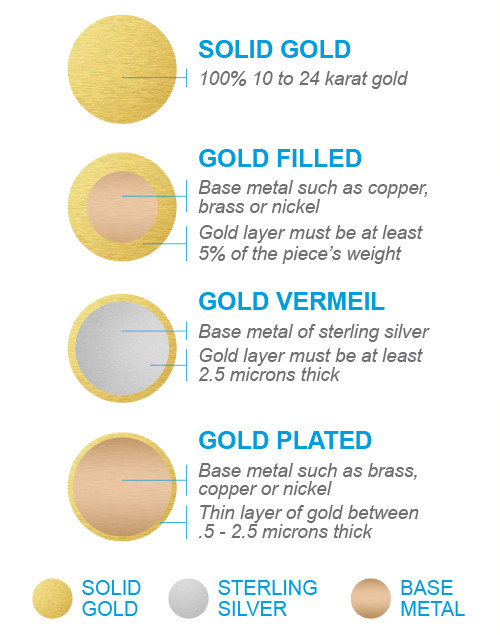 These standards are meant to ensure that the consumer understands the gold content of a piece, particularly with regard to its thickness, which affects its durability. The thicker the layer of gold, the higher durability the piece has. Gold plated pieces are a great option for fashion styles you may not intend to wear for decades, while gold vermeil and gold filled pieces will likely last for many decades. These pieces may not be heirlooms that will be passed down for generations, but they are certainly durable enough to wear and enjoy for many years.
It is also important to understand that you can and should safely clean your gold plated, gold vermeil and gold filled jewelry. A gentle jewelry cleaning formulation is safe for all varieties of fine and fashion jewelry to remove build-up of dirt and oils. Simply follow the directions on the product. If your piece is tarnished, you can use a non-rouge polishing cloth, which is chemically treated with a tarnish remover. You want to avoid using a rouge cloth, which is too abrasive. You can also buff the piece with a non-treated cloth, but do not have your jeweler polish or buff it with a high-speed wheel as this can remove the gold.
Gold filled, gold vermeil and gold plated jewelry offer consumers a beautiful but more cost-effective option to get the look of solid gold. While the value of the piece may be measured more by the wearer's enjoyment than its intrinsic value, that is not to be minimized. Many women mix fashion pieces with their fine jewelry to create a look with impact but which is easier on the pocketbook.