The market for kits is ever-expanding. Bundling products is an effective merchandising strategy designed to simplify the decision-making process. By combining the necessary items to complete a task, consumers feel confident they're getting the specialized products chosen for them, and feel less overwhelmed by options.
Consumers are already buying kits for every need. Skincare kits. Beard grooming kits. Cleaning kits for shoes and cars. So, why not jewelry?
Cleaning jewelry is a simple task to do at home when you have the right tools. So, offering a kit like our Clean + Care® Jewelry Cleaning Kit makes perfect sense. Everything your customers need is right there, including instructions. It's perfect for living in a fast-paced world.
What is a Clean + Care® Jewelry Cleaning Kit?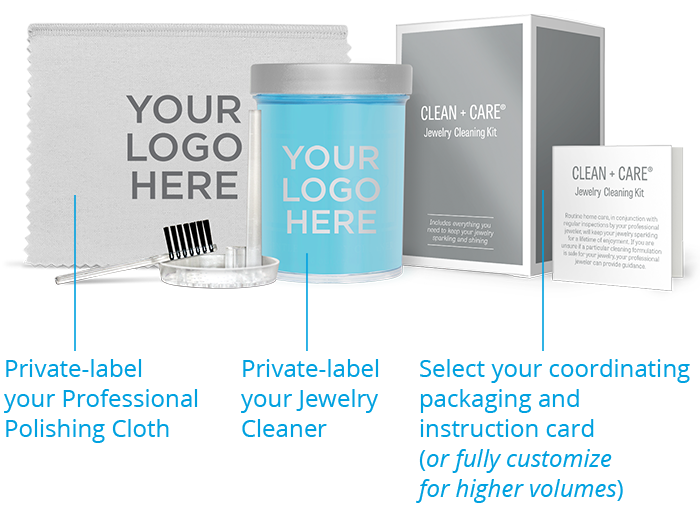 Our popular Clean + Care Jewelry Cleaning Kits were created to offer a beautiful, packaged product at a low minimum order of only 144 (assembly required). This semi-customizable kit allows you to private-label two jewelry care products, and choose from coordinating black, silver or gold packaging to fit your brand. If you're looking for a more branded kit, our Custom Jewelry Care Systems can be custom printed for higher volume orders.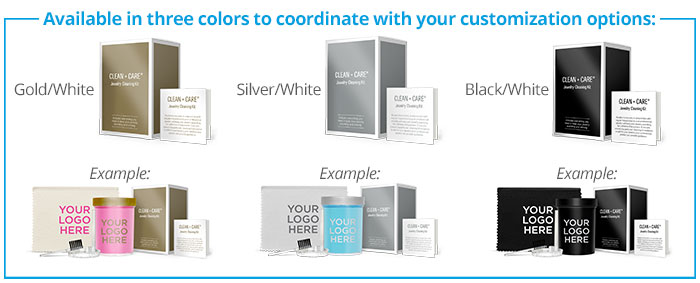 Why your customers love jewelry cleaning kits:
They have two complementing jewelry care products specially chosen to clean their jewelry at home.
They feel their professional jeweler understands their needs, which builds trust.
They're able to try more than one product, and will return to your store buy more. (The most successful retailers also sell the products individually, usually the full-size versions.)
Create Your Kit
If you're ready to create your Clean + Care Kit, use the helpful visual product builder to select your customization options. Get started now.
Looking for more customization?
If you're looking for a more customized kit, our Custom Jewelry Care Systems have a wider range of customization options with any product combination.