3 Things all Jewelers Should Know About Hand Sanitizer and Jewelry
March 16, 2020

As Seen In: National Jeweler
July 7, 2020
A new future of cleaning is coming. To help your team prepare, be sure to tune in to this webinar hosted by Jewelers of America and presented by Kristie Nicolosi, President & CEO of The Kingswood Company. You'll hear from the industry's leading jewelry cleaning expert who will break down how to incorporate a new level of CLEAN into your communications, your store, and your in-store customer experience.
How (and why) to talk to customers online about care and cleaning (this is a hot topic online right now!)
How to educate in-store teams and customers on how your jewelry cleaning products work to eliminate germs, dirt, oils, and grime.
How to plan and prepare for the ultra-clean environment store associates and customers will expect when retailers reopen.
How (and why) to include jewelry care and cleaning in every transaction in a post-COVID selling environment.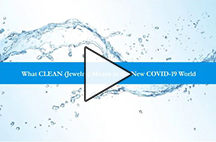 You'll be directed to the Jewelers of America website.