Due to the global spread of Coronavirus (COVID-19), many people have increased their use of hand sanitizer. We know it disinfects, but what else is it doing to your customer's jewelry?
1. Is hand sanitizer safe for jewelry?
Generally speaking, hand sanitizer is safe for all hard stones and precious metals such as silver, platinum, titanium and other plated rings.
2. What pieces can be harmed by hand sanitizer?
If the ring contains soft stones like pearls or opals, the alcohol in the hand sanitizer could damage them. In addition to possibly damaging soft stones, the additional ingredients in hand sanitizer will dull the shine.
3. What can you do?
First and foremost, health and hygiene are always more important than any piece of jewelry, so don't discourage the use of hand sanitizer. Instead, encourage your customers to use your custom jewelry care line! The surfactants in the cleaner will gently remove buildup of oils and grime, restoring the jewelry's natural sparkle and shine before all of the hand sanitizer use. Your cleaner is safe for daily use, so your customer can use it as much as is needed. If their rings do contain soft stones, advise them to remove rings before applying hand sanitizer.
You can also share this information with your customers on your social media channels. Take a picture of your cleaner and use the below as a caption idea:
Hand sanitizer dulling your shine? Give your rings their sparkle back with our jewelry cleaner!
Watch our webinar hosted by Jewelers of America to learn how to incorporate jewelry cleaning into your store hygiene routine. Watch Now.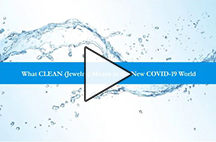 If you have any questions, call your Account Executive at 848-848-3582 to schedule a cleaning consultation.