Your customers want clean jewelry. Your customers want to care for their jewelry safely. And they want to do both – at home and on-the-go – with the best products on the market. That's why we are introducing our Clean + Care® Jewelry Care Product Line.
How Clean + Care Started
The Clean + Care name has enhanced two of our products for a few years now. It started with the Clean + Care Jewelry Cleaning Kits, an easy way to offer your customers a complete, semi-customizable jewelry cleaning kit. When we launched our professional ultrasonic cleaner we made the careful choice to also add the Clean + Care name.
During the past eight months we've answered numerous questions about jewelry hygiene, and received many requests for a house brand. We take feedback from our customers very seriously, and the frequency of these conversations made it clear there was a need for Kingswood's effective cleaning formulas at lower quantities. The success and appreciation that the two original Clean + Care products brought made it a no brainer – this new, low MOQ and easily accessible product line will hail as Clean + Care.
The Clean + Care mission is to provide an option for all retailers to offer a beautiful, high-quality product to their customers. Everyone deserves to wear clean and sparkling jewelry, every day.
Benefits of Clean + Care
1. Expand your product offering
Maybe you already offer some jewelry care products that your customers love. They have a jar of jewelry cleaner that makes their diamonds sparkle, or a polishing cloth to add a finishing shine. But what about something to take on vacation or to the gym? Or maybe your customer wants an ultrasonic cleaner like her best friend has
Now, you can offer an expanded line of beautiful and useful jewelry care products to meet your customers' every need. These products offer a sophisticated look with cleaning formulas that work better than any others. Your customers will love them.
2. Fast turnaround time
When you place an order through the Clean + Care website your order will ship within 1-3 business days. Kingswood's private-label manufacturing requires a much longer lead time due to the level of customization and every product is made to order. This is the perfect solution if you need jewelry cleaner quickly for an event, you run out of stock, or you want a solution to offer a product until your private-label order ships.
3. Low order quantities
We wanted to make Kingswood's trade-secret cleaning formulas available to as many retailers as possible through Clean + Care. Even popular products that typically have higher MOQs will be much more accessible. Now, instead of purchasing 5,000 private-label Sparkle + Shine Sticks you can order a single case of only 15 Clean + Care Sparkle + Shine Sticks. This makes it easy to try out a new product before committing to private-label, add to your current product line, or just order a small amount for in-store cleaning.
How to Order
You can easily place your order through www.cleanandcarecleaner.com. Simply create an account, select your products, and pay through the website. You'll receive a shipping notification with the tracking number once your order has shipped.
If you're not ready to order yet you can still create an account, or sign up for Clean + Care emails to be the first to know about new products, specials, cleaning tips, and more. We'll be frequently launching new products that you won't want to miss.
What About Private-Label?
The Kingswood Company will still continue to focus on private-label, and expand our capabilities. Current customers will be able to purchase from BOTH Clean + Care AND The Kingswood Company. If you're interested in private-labeling, contact one of our specialists today to learn about our products and available customization options.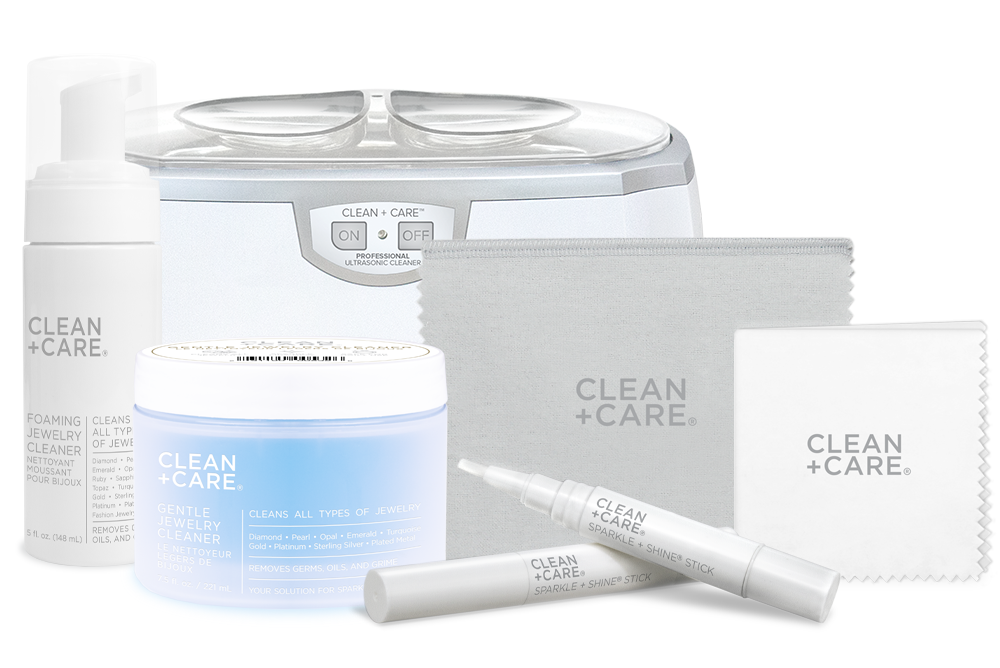 Visit www.cleanandcarecleaner.com to see the full product line of jewelry cleaners, polishing cloths, microfiber cloths, and more.
Posted: October 15, 2020 at 12:01 am EST