It's the topic we've all been talking about since COVID arrived on the scene: cleanliness. As we are all more aware than ever about the importance of keeping our hands clean, you may have customers asking you, "how clean is my jewelry?"
We're not going to lie to you; rings can get pretty dirty, especially those worn daily. UK pre-owned jewelry company Est.1897 conducted a study to see just how dirty everyday jewelry gets. The results were a bit stomach-churning, as well as a clear call to clean your jewelry frequently!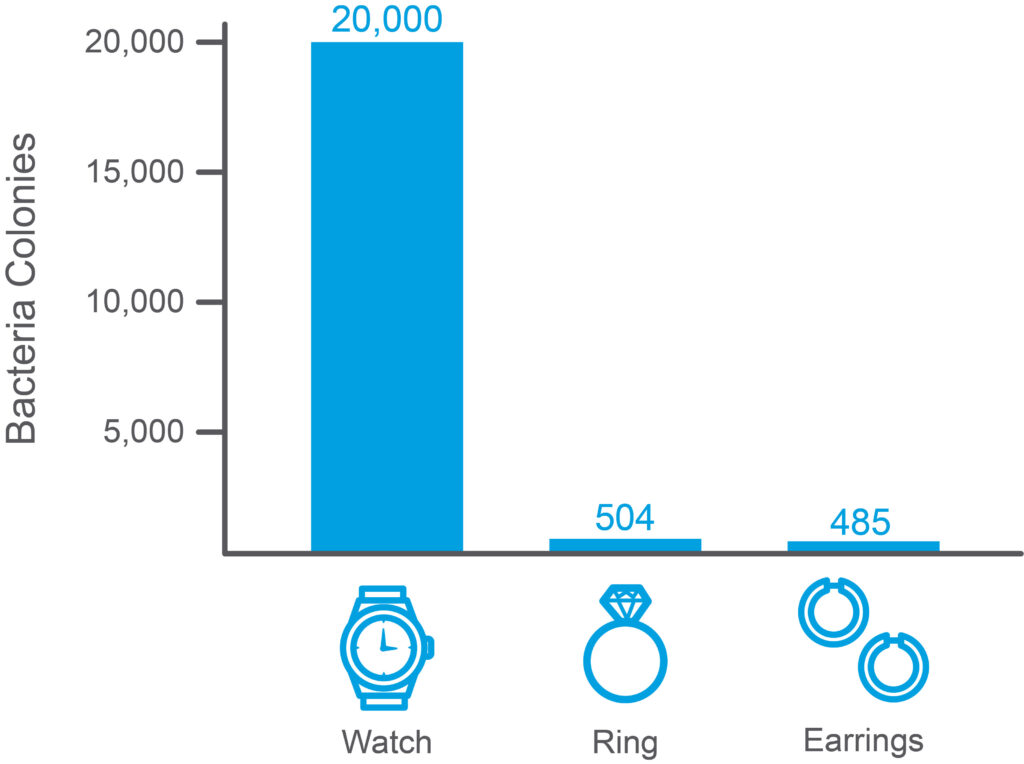 The study took swabs of rings, earrings and watches after just one week of wear, then checked for bacteria. Let's just say, all variety of bacterial colonies were found thriving. And with the average person touching their face 16 times an hour, it's more important than ever to stress the need to keep jewelry as clean as possible to your customers. Watches were actually the dirtiest of the three studied pieces, followed by rings and then earrings. So, it's likely that your customers' jewelry really isn't very clean.
This is where your customized jewelry care line comes in handy and reinforces your brand's commitment to your customers, their daily health and hygiene, and their jewelry.
Watches
To keep watches clean, requires some extra care. Leather bands are their own special challenge, but for watches with metal bands, there are a few options. Jewelry & Watch Cleaning Wipes are perfect for wiping away grime from metal watch bracelets and pieces that can't be soaked. In addition, the Clean + Care® Professional Ultrasonic Cleaner comes with the perfect watch-lovers accessory – our custom watch holder will allow customers to clean their watches while keeping the case safely out of the solution. Adding jewelry cleaner to the tank gives the ultrasonic cleaning an added boost.
Rings
The easiest way to help your customers keep their ring(s) clean is a daily soak in a professional jewelry cleaning formula. Offer them a formula safe for their piece of jewelry, like a Fine Jewelry Cleaner or Gentle Jewelry Cleaner, and instruct them to soak it for about two minutes. Use the special jewelry touch-up brush (never a toothbrush) when needed. Then rinse and pat dry – and use a Professional Polishing Cloth as a second step to remove any built-up tarnish. It's such an easy thing to add to your daily beauty and hygiene regimen.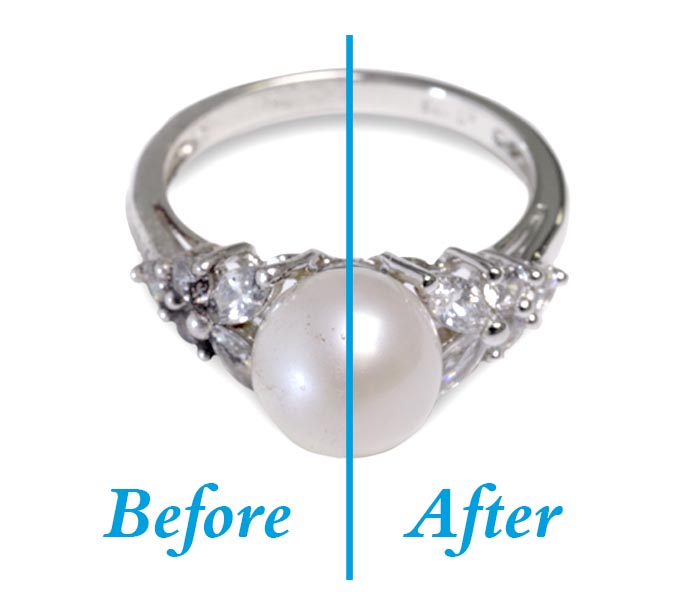 If your customers are looking to touch up their ring(s) while on the go, consider carrying a travel jewelry cleaning option, like the Sparkle + Shine® Stick or Jewelry & Watch Cleaning Wipes. There is no easier way to give a ring a quick once-over after applying hand cream during the winter, or sunscreen in the summer, both of which dull rings worn daily. 
Earrings & Other Jewelry
If your customers are looking for an even deeper cleaning, the ultrasonic option is again the winner. Using an ultrasonic wave frequency that is perfect for cleaning delicate jewelry, it is ideal for rings, as well as earrings, bracelets, watches, and even eyeglasses. When a small amount of jewelry cleaner is added to the tank, along with water, oil, dirt and grime are all cleaned away with the touch of a button.
While hopefully Covid-19 will soon recede into a not-so-pleasant memory, the importance of cleanliness is sure to stick with us. Offering a custom jewelry care and cleaning product line is an easy way to offer your customers an option for boosting their hand hygiene, and position your store as a product expert.
To learn more about how our jewelry cleaner works against germs visit our Cleaning & COVID page.
---
Posted: February 18, 2021 at 12:00 pm EST